A potential new weapon against cancer is entering the first phase of clinical trials thanks to a collaboration between Spectrum Health, the Lansing-based company Niowave and Michigan State University.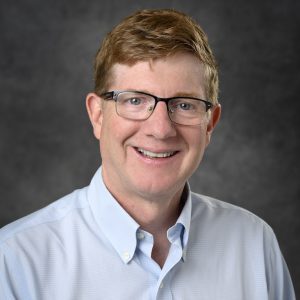 MSU's Kurt Zinn, a professor of biomedical engineering, radiology and small animal clinical sciences, is leading the effort to validate an innovative radiotherapy as part of a safe, more effective and potentially less costly treatment for bladder cancer.
The trial is the first step toward the team's overall goal: Developing a platform that combines radiotherapy with immunotherapy, drugs that help a patient's own immune system fight off disease.
"First, we have to prove that this is safe and that it works," said Zinn, who is also part of MSU's Institute for Quantitative Health Science and Engineering, or IQ. "Then, we think we'll have a really good platform we can bring to patients and attack numerous cancer types."
Getting a new therapy to a clinical trial, where it has shown enough promise to be evaluated in human patients, is no small feat. And Zinn credits the teamwork with Niowave and Spectrum Health for getting this new therapy to this stage.
"This is a team effort and all parts of the team are critical," said Zinn, who has worked on more than 10 phase I trials. He also has extensive experience working with medical radioisotopes, particles that deliver radiation useful for imaging or, as is the case with this work, treating diseases.
To prepare for the trial, the team had to accomplish two broad goals: finding the right radioisotope and identifying the most appropriate cancer to validate its platform.
Zinn credits MSU's connection with Niowave for the former and it's a connection that runs deep. The company was founded by Terry Grimm, a former researcher at MSU's National Superconducting Cyclotron Lab, and many Spartan graduates have gone on to work for Niowave.
For its part, Niowave was also excited to work with Zinn.
"I can't say enough good things about Kurt and what it's like to work with him," said Mike Zamiara, Niowave's president. "He's a brilliant guy and so creative."
The team needed to find an isotope that checked several boxes. For starters, the isotope obviously needed to have medically attractive properties. But it also had to be accessible. That is, researchers and technicians had to be able to produce it in a way that's commercially viable and adheres to the U.S. Food and Drug Administration's purity and safety standards.
Working together, the Spartan-Niowave collaboration arrived at an ideal candidate known as lead-214, which is a lead atom with 214 protons and neutrons in its core.
Niowave has the technology to supply the isotope to Zinn's team at MSU. The Spartans, in turn, have a brand new radiopharmacy facility that expands their ability to integrate isotopes into pharmaceutical doses for patients. MSU also operates a radiopharmacy in collaboration with the Ohio-based Cardinal Health that's been producing diagnostics based on fluorine isotopes for about a decade.
"There's a lot of exciting work that's already being done with other isotopes similar to lead-214," Zamiara said. "We're looking at it and saying maybe we can share some of the success they've had with those isotopes, and maybe it's a better isotope for certain types of cancer."
And one of the team's collaborators — Brian Lane, who is the Betz Chair for Cancer Research at the Spectrum Health Cancer Center — knew where the team's treatment could prove itself.
"I immediately knew it had to be bladder cancer," said Lane, who is also a urologist that holds an appointment as a clinical professor with MSU's Department of Surgery.
Doctors will administer the lead-214 therapy to patients as a liquid, which is the same state as the immunotherapy already used to treat bladder cancer.
"We regularly put liquid chemo and immunotherapies into the bladder of these patients," said Lane.
This means that patients in the clinical trial can receive both the standard of care and the new radiotherapy in the same way, at the same time. That is, no additional procedures would be required to administer the new treatment.
On its own, standard immunotherapy works for about two-thirds of patients who receive it. Testing the new radiotherapy in bladder cancer will allow researchers to show whether adding radiotherapy can improve outcomes for more patients.
By playing on their individual strengths to decide on their weapon and its target, the team members believe they have collectively put this project on the best footing to succeed.
"We have people coming together from different areas of expertise and sharing ideas,"
Lane said. "This is a perfect example of what translational research should be."
Lane also credits the leadership at Spectrum Health for having the vision to support these types of collaborative projects. This clinical trial is being funded by the Spectrum Health — MSU Alliance, which was created to support and enhance medical research.
The Alliance is also supporting a new project led by Tomasz Timek of the Spectrum Health Meijer Heart Center and MSU's Aitor Aguirre, an IQ researcher and assistant professor of biomedical engineering. This work will use Aguirre's recently unveiled miniature heart models to better understand the origins of a heart condition known as functional tricuspid regurgitation, or FTR.
MSU recruited both Aguirre and Zinn under the Global Impact Initiative.
For Zinn and his colleagues, the Alliance is providing a launchpad, which is not to suggest the team is looking past this trial. The goal of this trial is to help patients with bladder cancer today. And, in doing so, it will open the door for a variety of new ways of attacking a variety of cancers, especially with MSU's Facility for Rare Isotope Beams scheduled for completion in 2022.
FRIB will create new isotopes that the team could explore with its treatment platform.
"It's really exciting having FRIB right down the street," Zinn said. "This is a project that could very easily expand and we've got big plans."
Other Spartans on the project include doctoral student Nate Kauffman, clinical instructor Conrad Tobert and Mark DeLano, an associate professor and director of the College of Human Medicine's Division of Radiology and Biomedical Imaging in Grand Rapids.