Joseph Salatino will make Michigan State University history when he graduates as MSU's first PhD in biomedical engineering during advanced degree ceremonies at 3:30 p.m., Friday, May 3, in the Breslin Center.
Salatino has been working with Erin Purcell, assistant professor of biomedical engineering, since joining MSU's fast-track BS/PhD program. He received a bachelor's degree in neuroscience in 2016 at MSU, where he was also a member of the Honors College.
"I was fortunate enough to be the first graduate student in the Department of Biomedical Engineering and to contribute to lab startup growth as the first graduate student in Erin Purcell's Regenerative Electrode Interface Lab," he said.
"My doctoral research has developed cutting-edge techniques to improve the integration of implantable neurotechnologies used to treat Alzheimer's, Parkinson's, depression and traumatic injuries."
Purcell said Salatino's impact on her lab, the new department, and the broader field of neural engineering can't be overstated.
"He was a tremendous asset to my team, producing high-quality data and publications that served as a foundation for our current success," Purcell said. "I couldn't be more proud to have been his mentor, and I can't imagine a better person to represent MSU's new Department of Biomedical Engineering. I'm confident that we'll be hearing about many more of Joseph's achievements in the future!"
Salatino's PhD work produced eight peer-reviewed scientific publications and eight conference presentations, including scientific articles in high-impact journals and a "Top 10 Highlight of 2017" in Nature Biomedical Engineering.
Among his awards are the Outstanding Graduate Student of the Year in Biomedical Engineering, the Research Excellence in Neuroscience, and the John D. and Dortha J. Withrow Endowed Fellowship in Biomedical Engineering. He was also nominated for Most Outstanding Graduate Researcher in the College of Engineering.
While at MSU, he also became a Venture Fellow at Spartan Innovations.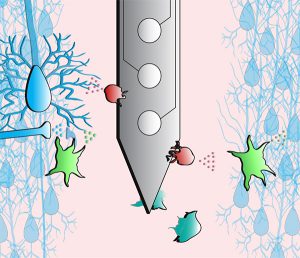 "I have been developing commercialization strategies for breakthrough university technologies," he explained, "including a proprietary gene therapy platform for CNS therapeutics."
In June, Salatino will become a translational scientist at nference, Inc., in Cambridge, Massachusetts.
"I am highly motivated to leverage the nferX AI platform at nference to guide the R&D and commercialization of breakthrough therapeutics," he added.
Salatino is originally from Bloomfield Hills and a graduate of Roeper High School.
***
Dissertation Defense: The Department of Biomedical Engineering will present the Ph.D. Dissertation Defense of Joseph Salatino on Wednesday, May 15, at 2:30 p.m. in the IQ Atrium: Structural and Functional Remodeling of Neuronal Circuitry Surrounding Implanted Electrodes. His adviser is Erin Purcell.
About the presentation: Microelectrode arrays designed to map and modulate neuronal circuitry have enabled greater understanding and treatment of neurological injury and disease. However, poor biological integration remains a significant barrier to the longevity and stability of electrodes implanted in the brain, where instability and loss of signal over time are commonly attributed to gliosis and neuronal loss. However, these metrics do not reliably predict signal loss, and understanding of device failure modes remains incomplete. Here, this work provides fundamental insight into biological mechanisms that contribute to these failure modes, as well as develops innovative strategies to improve the biointegration of brain implants. This dissertation covers 3 central studies: 1) a comprehensive review of glial mechanisms to inform tissue-device integration, 2) novel observations of synaptic transporter remodeling at the tissue-electrode interface, and 3) novel observations of modulation of ion channel expression around implanted devices. Furthermore, the development of genetic techniques to modulate tissue-device interactions will be presented.